Eating out in Burnham
Burnham has many places to eat ranging from nationally famous cuisine of the Contented Sole and the Gastonomic delights of the Oyster Smack to the humble chip shop.
Clicking on a hyperlink wil take you directly to the relevant premises web page.
Back 2 the Wall Cafe, High Street
Burnham Grill, High Street
Cabin Dairy Tea Rooms, High Street
Cafe 41 , High Street
Contented Sole Restuarant, High Street
Curry Cottage Indian Restuarant, High Street
Monsoon Take Away, Station Road
Mrs-Sippis, Cafe, Foundry Lane
Oriental House Take Away, Station Road
Oyster Smack, Station Road
Polash, Station Road
Quayside Restuarant, The Quay
Rouf Fish & Chips, High Street
Ruam Thai Resturant, High Street ( over Ravens)
Sauda Village Fish & Chips, Station Road
Sauda Village Oyster Pit, High Street
Sgt Peppers Pizza Restuarant, High Street
Golden Dragon Chinese Restuarant, High Street
Spice Fusion Indian Restuarant, Station Road
Swallowtail Restuarant,Burnham Yacht Harbour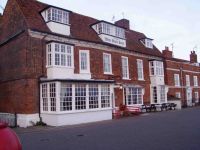 White Harte Hotel, The Quay
---
The businesses listed above are outside the control of this website .
No payment has been made or sought to this web site in relation to listing these businesses.
Marshland Group of Web sites cannot be responsible for the conduct or content of these businesses and provide the details for information purposes only